Posted on May 17th, 2011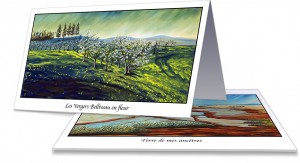 Si vous désirez acheter des cartes avec images des œuvres de l'artiste, une commande de 100 cartes serait possible. Il est possible d'avoir n'importe quelle image qui est sur le site web. Veillez contacter l'artiste pour plus de renseignement sur les prix et images.
If you wish to buy cards with images from the artist's artwork, you may ordre 100 cards . It is possible to have any image that is on the web site. Please contact the artist for information on prices and images.