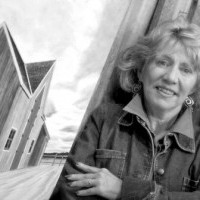 Biography – Georgette Bourgeois
Georgette Bourgeois grew up in Canada in downtown Moncton, New Brunswick. She lived with her maternal grandparents who were visionaries. This helped her acquire a precise education on the history and advancement of the Acadians in the Moncton region. Her mother and father, both artists, gave her the tools and a vision that defines her passion for history and art.
Georgette taught French, French Immersion and Visual Arts in New Brunswick schools. She has a Bachelor of Elementary Education and a Bachelor of Education from the University of Moncton. She completed Fine Art courses at the University of New Brunswick in Saint John, and at the University of Mount Allison in Sackville.
With over fifty solo exhibitions to her credit, Georgette has had exhibitions in Louisiana, in France and in Canada.
In 2007, she was the first artist-in-residence at the Grand-Pré National Historic Park in Nova Scotia. She created a series of nine paintings entitled L'Esprit de Grand-Pré. This series has been in 15 exhibitions, including at the New Brunswick Museum and at Le Musée acadien du Québec. In 2011, the work was shown at the University of Louisiana during the Grand réveil acadien 2011. This series is part of the permanent collection of La Société promotion Grand-Pré.
In 2012, Georgette created and had on exhibition on a series of eight paintings entitled Renaissance to mark the 35th anniversary of the Village historique acadien in Caraquet, New Brunswick. These paintings are part of the permanent collection of the Village. They have been shown at The New Brunswick Museum.
In 2018, six paintings of the series L'Acadie contemporaine du Grand Moncton became part of the permanent collection of the Faubourg du Mascaret.
A few paintings from the series Village historique acadien are part of the permanent collection of the Musée acadien de l'Université de Moncton.
Ms. Bourgeois has received several grants from the New Brunswick Arts Board. In 2008, she was nominated for the Éloizes prize in Visual Arts awarded by the Association acadienne des artistes professionnel.le.s du Nouveau-Brunswick.